Being good isn't always easy. Thankfully there are helps out there including programs like
We Choose Virtue
. We Choose Virtue provides an assortment of Character Training Curriculum and teaching aids. Heather McMillan the creator of We Choose Virtue sent the TOS Crew
Virtue Clues Cards
,
The Teacher's Handbook
,
Kids of Virtueville Coloring B
ook
, as well as free downloads from their website:
Family Character Assessment
, and
Kids Memory Verses, Bible Heroes & Truths
. This assortment of products is just a small sampling of the We Choose Virtue program but was enough for us to really get excited about it. I printed the coloring book for each of the boys and wrapped them up for Christmas/
Hanukkah
week last month. The boys thought the characters were fun and engaging. We introduced the cards and immediately the boys saw the challenge before them. While we have not succeeded in a lot of changes, I have noticed a more willingness to help at least from my oldest.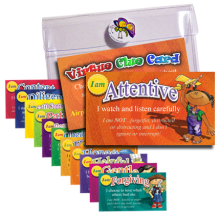 The Virtue Clue Cards are on sale for just $7.95 each, and they come in a handy dandy, take-everywhere pouch. While they are small, they pack a lot of information into each card. The characters and the cards themselves are very colorful and eye catching.
The
coloring book
is a $3.00 pdf download and includes each of the Virtueville Characters.
I love the coloring book in pdf format so I can print multiple copies, I started out with 1 full set for each of the boys, but since they had so much fun. I am printing our focus character as part of their Monday scripture activities.
The Teacher's Handbook
is packed full of ideas and simple steps to teach your children strong character education. The Handbook is available as an e-book for only $4.99 and has ideas for homeschoolers as well as Daycare/ Preschool teachers.
Be sure to check out what the rest of the crew thought of this program
HERE
Check out WE Choose Virtue on
Facebook
for inspiration and ideas to go along with the program.
We received the products listed in this post as a member of the TOS Homeschool Crew in exchange we have shared our honest opinion of the product.