We received an e-book package from
Spanish for You!
to review in our homeschool and share with our readers.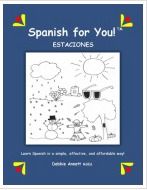 We received
Estaciones
which translates to Seasons. You can check out the
sample pages
What is Spanish for You! Estaciones
? This program is a topic specific program designed for multi-age groups with mastery in mind.
What comes with the program?
A soft cover book or e-book , 24-30 week
lesson guide
for the grades you need
(PDF download), self-checking
worksheets
(PDF download), audio files of entire book in native speaker as well as traditional non-native speaker (MP3 download), and flashcard / activity pictures (PDF download)
What about lesson plans? those are purchased separately.
How much does the program cost? Products start at $9.99, the package we received as it was a complete package with all grades retails for $64.95
How did we use the program?
We started out using the program with our 2nd grader and 4th grader. We realized it was a good fit for the 2nd grader yet, since it is really designed for 3rd grade and up, so we let him work on other things during the times we were working on this. As we continued with the program, Cameron found too many struggles with the style and the audio recordings and asked to set it aside for a while. We used the program for 3 weeks and then set it aside for 2 weeks and then returned to it in shorted sessions. He is struggling with adding a language right now with so many variables. He has found that rather than a textbook program of study for Spanish, he is actually learning better through play with some of the neighbor kids. His afternoon playmate and himself have made friends with the hispanic children next door to the playmate where the young boy they play with has decided to teach them Spanish. Cameron comes home and we verify the words in our lessons and a couple of Spanish kids' dictionaries. He is slowly feeling like we can add more table time to our Spanish lessons.
While the program didn't work as planned , I can report that it has inspired Cameron to learn Spanish and it is becoming our go to for Spanish activities, especially the flashcard/ activity cards. We have been working on game ideas to go along with the cards and are considering laminating them with contact paper for longevity.
I have also been enjoying their blog full of ideas and inspiration for teacher and student (since I don't remember much of the Spanish I learned as a tutor in jr. high). I especially enjoyed a post about using comics strips to practice Spanish, I added that as an activity to come for the boys.
There are more reviews to read from the crew, just click the button below.