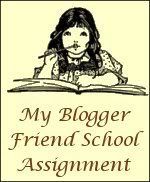 Assignment:
Share some of your favorite homeschooling sites.  The only "rule" for this assignment is that you have to list at least one "free" site.  Many homeschooling families have made the choice to live on very little income to do what they believe is best for their children and I want everyone to be able to benefit from this assignment.  If you have other sites that are "paid" sites, feel free to include these also as it might be something someone would really appreciate.  If you feel led, share your curriculum choices with us.  I always love to learn what is out there that I don't already know about.  Please make sure to include links to the sites you share.
My favorite Sites:
http://www.homeschoolviews.com/
http://www.makingfriends.com
http://www.childcareland.com/free.html
http://www.homeschoolbuyersco-op.org/homeschool/
http://homeschoolshare.com
http://www.makinglearningfun.com
Of course I could list more... I was just scanning my saved links and have several hundred (I need to purge them) but the above are my all time favorites for free homeschool stuff.. I have a list of fav's for blogs, mom stuff, ect but that is another post.