This beautifully illustrated book by husband and wife team Gary and Jan Bower introduces children to the idea of waiting and praying for the perfect mate. This book also reinforces strong moral character traits that young children understand as well as ideas that sometimes young adults need gentle reminders in .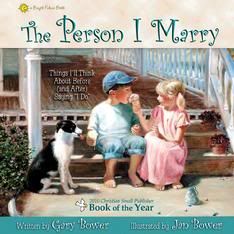 When we found out we were to review this book for the Homeschool Crew I immediately knew I wanted to share the story with my creative writing class of 3rd graders for several reasons. First in simple words the story moves through all the wonderful parts of a relationship, second, the poetry element is clear and reads beautifully, third and most importantly was the fact that most of the kids in the class including my boys were to attend a wedding in October. I picked the class session the week of the wedding in hopes that the Bride to be could attend if even for just the one class. She was able to make it and as I read the book the kids could relate to the story through not only the beautiful color illustrations but also that fact that the Bride to be was right there with us enjoying the story as well. (it also helped that the Bride to be was a blond and the Groom to be a darker haired young man)
We reviewed a digital copy and enjoyed reading it on my net-book. A storybook that is so sweet sometimes doesn't sit well with my boys (they are boys' boys) but this book they actually listened to me read.
I would highly recommend this book as a gift book as well as a wonderful storybook for families. The strong Christian values in this book make it a perfect book for young families wanting to talk to their children about purity, honor, love, and relationships. I love that the authors gathered bits of "wisdom" from their own children to include in the book. This book is a true treasure.
Check out what the rest of my crew mates thought of the book
HERE
***We received a digital copy of this book in exchange for our opinion and honest review****