I will start off by saying this course is way above my boys' heads but I did not review this with them in mind. I actually reviewed it with my high school co-op students in mind.
I have to admit I love literature. I managed to fill my schedule in college with as many literature classes as I could possibly handle then added a few more just for fun, so I looked at
Excellence in Literature
:: English I: Introduction to Literature
with a college prep attitude. I also see the

flexibility

of this program as a huge plus. While overall writing is a key element along with the reading of great literature, a group of students can easily hold discussions of the pieces rather than just writing essays about each piece.
Excellence in

Literature

is available in both print and e-book format.
Book 1 is available for $29 (plus S/H $4.95) in print or $27.00 in e-book format.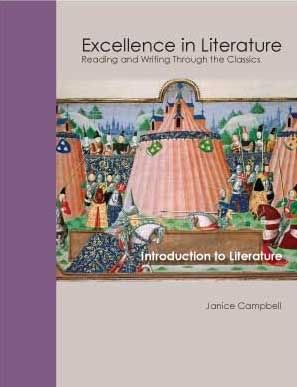 The book is 132 pages and is packed full of information to guide students through not only the literature but the historical context of the pieces and the art of writing and discussing the literature. There is also an honors element added to the book with additional works to read and discuss.
Another great tool when planning lessons with in this program is the fact that many of these classics are available as downloads (e-books and audio books). While I was going through the lessons I read some excerpts to my boys as I love reading classic literature to my boys while they play.
The selections work into many homeschool methods but fit very well into the Charlotte Mason style of learning. You can also read the author's blog , were she has a variety of articles to help with Excellence in Literature as well as homeschooling in general.
Another great tool is the Excellence in Literature Facebook Page with discussions about various works as well as the program it self.
One last bonus, Check out the publisher's home page for bonus features and their newsletter sign up
Check out what the rest of the TOS Crew thinks of this awesome program
HERE
***I received an e-book copy of this book as part of the Old Schoolhouse Homeschool Crew in exchange for my opinion of the book****