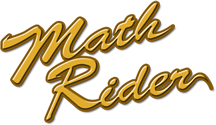 Well it seems to be a Math focused week here on the blog. This time I want to introduce you to a
math game
that will have your child on a hero's quest as they answer math facts.
I introduced Cameron to this game thinking it would be fun for him since he loves knights and dragons and quests. After playing a few times and getting the same quest over and over as he wasn't moving up a level he became frustrated. I wanted to help him get to the next level as he knows the math facts, but struggles with the 10 key on the computer. I switched it up a little and had him shout the answers to me as the questions rolled across the screen. That was a huge help. Of course it helped him pratice his math facts but not his keyboarding skills.
So what is Math Rider?
Math rider is a computer based math facts game that works toward mastery of all 4 math operations through a series of quests.
What age level is the program designed for?
Math Rider is designed for ages 6-12.
How much does it cost?
Math Rider retails for $49.95 but at the time of this review is on sale for $37.00 and you can try the program out with a 7 day free trial.
What are the System Requirments
? (from the math rider website)
WINDOWS
Intel® Pentium® Pentium 4 2GHZ or faster, 1GB RAM
Windows 7, Windows Vista® Home Premium, Business, Ultimate, or Enterprise including 64 bit editions, Windows Vista SP1, Windows XP Tablet PC Edition SP2 and SP3, Windows XP SP2 and SP3, Windows 2000 SP4, Windows 2003 Server
Intel Core™ Duo 1.83GHz or faster processor; PowerPC® G4 1GHz or faster processor
Mac OS X 10.4.11 or Mac OS X 10.5.4, 10.5.5, and 10.6
512MB of RAM
LINUX
Please note that Adobe has ceased to actively support the Adobe Air platform on Linux. At this point, MathRider version 3.10 will still run fine on Linux, but at some point it will cease to work. We therefore recommend you install MathRider on Windows or Mac instead.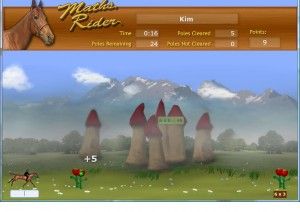 Based on our experience and current learning styles in our house, I can't say that I would purchase this product. I appreciate the idea of teaching to mastery and the values that go along with noble quests, but the boys' attention was grabbed with the graphics and the positive effects of repetition were lost in the method of using the same quest over and over.
Check in on the rest of the crew's thoughts on this quest
HERE
We received a download of math rider in exchange for our review of the program as part of the TOS Homeschool Crew, no monetary compensation was received.