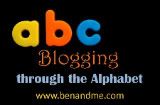 Thanks to Marcy for hosting this weekly link up.
C is for Candy, math that is...
I purchased 2 small bags of pretzel M &M s and print
activities sheets
and set the boys up for some fun math.
Cameron had a challenge in keeping the M & Ms on his paper
Nathan had fun counting the colors and graphing the numbers.
When we were done graphing the colors, the boys got to eat the M & Ms while we talked about the graphs and the fractions involved.
What fraction of the M & Ms were blue?
What fraction of the M & Ms were not brown?
The each had 15 M &Ms so we were working with a fraction they had not worked with before, but that added some adventure to the activity.