With a Science Guy wanna be in the house I am always looking for new videos for him to watch. I was excited to find a series of videos from
Library & Educational Services
called Go Science. Nathan was crazy excited about the DVDs even before they arrived.

Library & Education Services is an online education products website that has a wide variety of books and media to purchase. You can shop online or request a catalog and sales flyers. I was impressed with their prices and selection. I have already created a huge wish list of things I want to get for our
homeschool library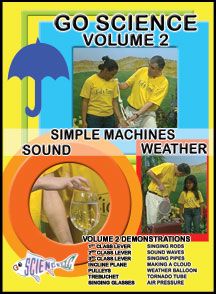 We received Volume 2 Go Science Simple Machines, Sound , and Weather, a 59 minute creation science focused DVD that teaches things like incline planes and making a cloud.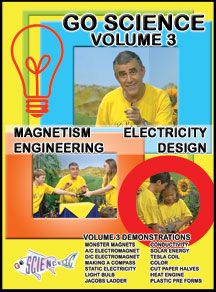 Nathan enjoyed watching the DVD but didn't feel like he could easily do the activities at home. He did enjoy the feel of the videos and the kids involved in the DVDs.
We also received Volume 3 GO Science Magnetism, Electricity and Engineering Design where we learned about Static Electricity, Jacobs Ladder, and a Heat Engine. While Nathan watched this one , Mommy learned it is going to be hard to keep up with this kid. He was excited and inspired with each video.
As we were talking about the DVDs getting ready to write this review, Nathan brought up the message I think really hits home for me in our homeschool ' God is the only creator' and 'Everything we are comes from God'. Some days my little guy blows my mind with his grasp of God's awesomeness.
I am very grateful to find DVDs that not only inspire the boys' desire to learn more but also support the underlying theme of God in our world. So often the things we watch chip away at that message and theme.
Mr. Roy does an amazing job reminding us at the end of each video lesson
"Every time we learn something about SCIENCE, we learn something about our CREATOR GOD!"
So , are these DVDs a value?
They are regularly listed for $14.95 each – or $79.95 for the set of 6 and honestly I think they are worth every penny. However, you know I love a deal especially when it is an educational product that the boys like so I am over the top excited that
Library & Educational Services
has the
Go Science
DVD's available for just $8.97 each, or $47.95 for the set of 7 DVDs. I am even considering purchasing the other 5 DVDs for our library to be used over the next year.
Be sure to check out what the rest of the Crew thought about these DVDs
HERE
Disclaimer: We received 2 Go Science DVDs as members of the TOS Homeschool Crew in exchange for our honest opinions. All opinions are that of the students and staff and Unionvale Homeschool.