My boys love music, at least learning music and trying new things, so when the opportunity arose to review Adventus MusIQ Homeschool program I was excited and so were the boys. This computer based piano lesson program is available for the whole family and can be purchased as a monthly subscription for $10.95 a month.
You may also purchase a midi keyboard from Adventus to use with the program if you don't already have one.
We already have an older midi keyboard so we purchased a USB midi adapter plug to connect our keyboard to the program. I would recommend purchasing a new keyboard unless you are sure your keyboard will connect to your computer and is recognized. We had several technical issues going into the project as I have an older Yamaha midi keyboard. After several calls to various tech support numbers we finally got the correct drivers and set up to work with the program.
My boys were eager to start the program and learn as much as they could, so they were willing to help get the office set up with their computer and a spot of the keyboard. We started with the Children's Music Journey Volume 1 with both boys. I was impressed with how quickly the program started into the keyboard use, within the first lesson the program was having the kids work on the keyboard. The graphics were engaging and the characters voices fun and ear pleasing. Both boys enjoyed the composers as the characters. With a variety of games to play, they found something to reinforce what they were learning and still have fun. While we slowed down a bit with music as the weather took us outside finally, they are still asking to work on 'Music Journey' as they call it. I asked each of the boys what their favorite game was and got the same answer (they don't usually agree on much) , Falling Leaves was their favorite, a play the note game. I thought they were actually all really fun. I set myself up an account so I could get to know the program a bit better as the boys were using it. Sure wish there had been something like this when I was learning to read music and play the piano.
The above video from their website does an awesome job of showing you around the program. There are several other YouTube videos available showing various parts of the program as examples, I actually went through most of them when we were considering this program. It gave me some helpful things to consider before we jumped in.
The program is colorful , for some this can be a little too much, but this time around both my boys found it very inviting. I had been struggling with how to teach my boys piano and music reading and have been very happy with this program. I am even shopping for a newer keyboard to replace ours so the boys don't have to deal with the technical issues that pop up every so often. With 3 volumes I know the boys will have a lot of music learning ahead of them. We may even look to the next program from Adventus to continue their music education.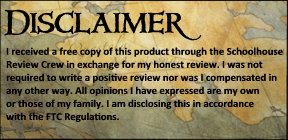 You don't have to take my opinion only, other members of the Schoolhousereview crew reviewed this program as well as share their thoughts HERE