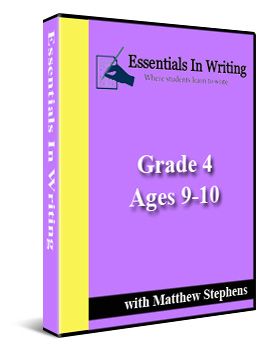 I love writing so it has been a struggle for me to have a child that hates writing as much as my 4th grader does. He is a wonderful storyteller and has a wonderful grasp of language usage but when faced with putting the sentences together he freezes. Thankfully we received Essentials in Writing to try with him. We decided to stay with the 4th grade level and see how it goes.
I wanted to make sure Cameron had a firm understanding of the grammar elements so I had him watch the first 4 lesson videos before moving on to the sentences and writing lessons. We found a couple of issues so we spent some extra time on those issues before moving further. I would rather slow the pace and master the concept then move ahead and struggle more later on.
Having the worksheets as a downloaded .pdf file made it possible to actually print an extra copy of the pages we had trouble with to work on a second time.
The DVDs played easily on our computer and made it simple to navigate as we moved around the lessons. Having 5 lessons show on the screen at a time kept Cameron from getting over whelmed. I did have Daddy watch a couple lessons with Cameron for a second parent interaction. Daddy had trouble watching and listening to the video as he is a sound engineer and the levels which the video was recorded at made for an off sounding environment. Since Mommy and Cameron don't have issue with the sound as much as Daddy we did ok with it. Although I have to admit there were elements of the lecture style that didn't sit well with me, but Cameron enjoyed the DVDs as much as a child who isn't a fan of writing can. He didn't argue or put up too much attitude when told his writing was next.
The DVD set with .pdf download retails for $40 and if printing is an issue for you, they also sell a printed copy of the workbook for $20.00
Here is a sample of 4th grade program. You can also download a copy of the Table of Contents and samples of the worksheets from the same page.
While we will continue to use this program for the time being, I'm not 100 % sold on the format. I'm still trying to find the perfect program for my 4th grader, we will combine elements of this program with our Montessori style learning to hopefully cover it all in a way he can retain it. We are always adapting our classroom / homeschool to fit their learning styles.
The Schoolhouse Review Crew reviewed a variety of the grades that Essentials in Writing has available. You can see what others on the Crew thought by reading their posts HERE