The first review for The Old Schoolhouse Homeschool Crew this year for me has been one of the most amazing reads as a homeschool mom.. When we first started homeschooling 4 years ago it was going to be for 1 year, and we were doing it on a wing and a prayer to be kind of cliche' .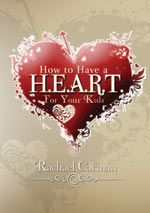 This book could not have come at a better time for myself and my husband... I read it outloud in the evenings after we put the boys to bed.. There were several passages that really struck both of us. It was like the lights came on in the darkness for us... A gentle yet firm reminder of several issues we are working on in our family as well as our homeschool. Rachael is honest and well spoken as she shares her own personal experience. You will laugh and probably cry as you begin to take the journey through Heart, Enrichment (Marriage), Accepting your kids, Releasing your kids to God, and finally Teaching them the Truth. On every page there is something that spoke to my heart. I have already read the book twice since I received it just about a month ago. I am so thankful that this is a hard cover book and the perfect size to fit in my purse, next to my bed on the night stand, on my desk, or anywhere else I need a gentle reminder why I am homeschooling and that God knows the path I should take. It is up to me to listen to those voices that are reminding me of him.

How to Have a H.E.A.R.T. For your Kids is written by Rachael Carmen , a homeschool Mom of 7, wife, and Focus on the Family author. She has been through what I like to think of as the 7 stages of grief when you realize you are really in this for the long haul. H.E.A.R.T. is available from Apologia Press for $13.00. This book is a not only a wonderful resource for a seasoned homeschool Mom but would make a wonderful gift for a new homeschool mom
I received a copy of this book as part of The Old Schoolhouse Homeschool Crew in exchange for my honest opinion of the book. I received no further monetary compensation. All opinions are my own.