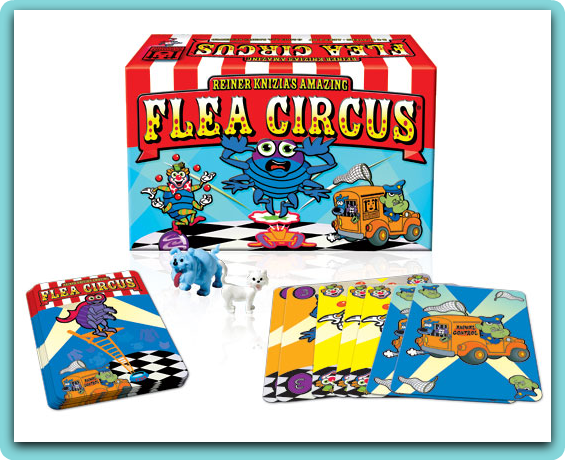 Just as school was beginning for us the boys received a fun surprise in the mail.
Flea Circus from R & R Games
. At first I wasn't sure how they would play as competition games sometimes get ugly around here. It was a hit as soon as we started. We played it one on one with the boys, where I would play opposite one boy a couple times, then we brought both boys together to play and and they loved it. We even played it one evening with some friends.
What is Flea Circus? It is a fast paced card game where each player lays down a carefully selected card and collects spectators (cats or dogs). When the game is over the player with the most spectators wins. Sounds simple but it actually can get pretty crazy. My boys really started to plan out their plays a little using some strategy as well as observation skills.
The box is small and can actually fit into out school bag for outings.
Since Cameron tends to be a hands on visual learner this game was perfect for him. We practiced math skills as well as observation, logic, and strategy skills while we played. I love when a game is teaching and they are having fun but don't realize they are learning while doing it.
Nathan has been working on his skip counting by 2 facts so we practiced those as we counted out points up (Dog spectators are worth 2 points each).
This game is neither Christian or Secular in focus, as a Christian family with non-Christian friends that play with the boys I was happy to have a non-violence focused game that even the non-Christian kids could play and have fun with.
The game is rated "not recommended for children under 3 due to choking hazards". I think a child that has a basic understanding of numbers 1-4 could have fun playing. This is an awesome family friendly game. Even my husband enjoyed playing with us.
The game is priced at $15.95 and is available from
R&R Games
where you will find other great looking family friendly games. I'm already making a wish list of possible Christmas gifts for the boys as well as cousins.

I received 1 Flea Circus game as a member of the The Old Schoolhouse Review Crew in exchange for our opinion of the game. No monetary compensation was given and all opinions are ours alone.