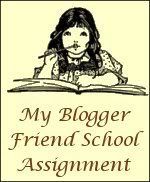 How do you keep energized so you can get it all done? bouncy music? treat it like a workout? Do you use a schedule?, a housekeeping binder system? luck of the draw system?.. or is this an area where you need encouragement? Do you need God's help to keep order and beauty in your dwelling place? Take this week to tell us how You diligently keep going with your housekeeping chores.
Reading this one really got me thinking. I'll be perfectly honest... I suck at housekeeping! I do have a Mommy Notebook (Thanks to Cindy Rushton's awesome classes and ideas) that keeps us on schedule or at least in the right direction. I try to do things a little at a time.. When the sun is out I can hang the laundry and that seems to reenergize me. The other thing to keeps me going is turning up the radio/ stereo and refocusing. I have several CD's I refer to in times of overwhelming. I love Carmen's Prayer Anthem and Sandy Patty's Praise CD (the name escapes me right now.), I also have a draw toward movie scores, Narnia: Lion, Witch, and The Waredrobe is in my stereo today...  It isn't much but it seems to help...
So there you have it... Now I should go, I left the dishes half done again...