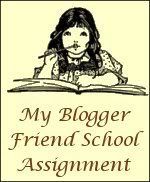 Have you done something crazy in your homeschool?  Do you fingerpaint with your toes?  Do you let your children do your hair?  Do you wear your pajamas during homeschool?   Oh, the list is endless, but it's up to you and how much fun you want to have..
Wackiness, let me think.... Does Homeschool at 9pm count. Cameron likes to play his phonics game at night and seems to absorb more this way...
What about laying on the floor? Nathan likes to lay on the floor and color....
Location..... Some find it a little crazy that our classroom is the laundry room... Personally I'm for whatever works... I've even thought of moving us out to the garage for space and flexibility and to get away from the TV in the living room......
So that is the Wackiness at Unionvale School, Care to join in the craziness?