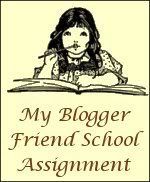 ntro
: M'm M'm Good (Campbell's Soup)
The fall is such a wonderful time of year.  The beautiful foliage and cool, crisp morning air is such a wonderful change from the hot summer.  I also love the M'm M'm good smell of fall cooking and baking.  The wonderful fall veggies, fruits and Thanksgiving foods.
Assignment
:  Post your favorite fall recipe/recipes to share.  I love trying new recipes, do you?  It can be baking, main dishes, veggies, dessert or anything else you can think of.  There are no limits.  Mmmmmm..I can't wait to take a look at some of those recipes.
This is a quick and easy recipe that is a standard around our house.
Chilli Ghetti:
1 Can of Chilli
1 Cup shredded cheddar cheese
1 cup cooked pasta (spaghetti or large maccaroni)
This is a large serving (usually for my husband) or 3 small servings (me and the boys) so when we are all having it I double the recipe.
Place cooked pasta of large dinner plate top with chilli and cheese, place in microwave for 1 minute to melt the cheese. Serve.
I will post more recipes this week as I get some time..