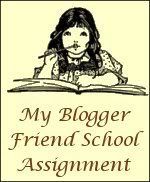 Intro: Try it, you'll like it! (Life Cereal)
When everyone else was afraid to try Life Cereal, they called on Mikey. Sometimes stepping out of our comfort zone is just too scary. Have you felt God gently (or maybe not so gently) nudging you to do something for someone else? You know that it needs to be done, but you keep putting it off because it is outside of your comfort zone? Well ladies, this week we are taking a step outside of our comfort zones.

Assignment: This week I want you to do something for someone else. Do you have a neighbor that needs you? Do you know an elderly person or single mom that could use you? What about the homeless? Pack even one single sack lunch and give it to someone in need. Do you know someone in blogland that is struggling right now and could use a note from you about how much you care? Pray about this. Let God put on your heart the perfect thing for you to do for another. Now, here is the kicker…I DO NOT want you to post about what you do. Whatever you choose to do is between you and God. Our rewards are in heaven, not here on earth, Mathew 6:1. I want you to post about how doing this "act" made you feel. Was stepping out of your comfort zone in this area as hard as you thought it might be? Could you see the gratefulness in their eyes? Hear it in their voice? Tell it from their typing? Do you think you might make doing things like this a more regular part of your time?  If this is an area that you are already active in, tell us how you feel this has impacted your life.
I've been sitting on this post for a while now trying to decide what I wanted to write.  I have been trying to help a gentleman at church that recently lost his wife. Their story is one that gives hope to those of us that are younger married couples. C is 99 and I was 90 when she passed away on 9-11-08. They had been married for 72 years. He is devastated by the loss and is still coming to grips with it. However , he remains a strong part of our little country church. I know he doesn't want to feel pitied or for that matter doesn't want people to talk about his loss. So, I've been trying to make him feel that he is a crucial part of our little church. He hands out the bulletins from his pew. And the boys and I greet him with a smile. Today I offered to set him by the sound system so he could listen to the sermon on the head phones again, but he didn't want to feel like he was singled out. We talked at lunch and joked a little, it was a blessing to see a smile and hear a little chuckle from him today.  I pray that he will feel comfort in our time together today.