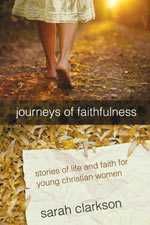 Have you struggled with you faith as a Christian woman? I know I have and this book really gave me strength and has become a nightly read for me.
What is the book I'm talking about?
journeys of faithfulness by Sarah Clarkson
from
Apologia Educational Ministries
.
This wonderful paperback book retails for $13.00 online and is a huge value, in my opinion it is a priceless asset to any Christian woman but especially young women.
The book is a combination of Bible stories and devotionals focusing on Biblical women's stories of faith. Beautiful characters like Mary and Martha, Ruth, Esther, and Mary the Mother of Jesus help open our hearts and minds to the beauty that is the life of the Christian woman.
As a mother of boys, I often feel lost in the world and feel like I am struggling with my faith most days. This book really has given me hope even in these trying times.
The devotions at the end of each chapter help make it personal and really build on the pure joy that is our faith in the Lord.

Apologia Educational Ministries
has many other wonderful titles for families as we make our own journey through of faith. No matter where you are in your journey, I encourage you as a Christian Woman to pick up this book and share it with your daughters, nieces, even your babysitter. If I could I would give all my high school co-op girls a copy of this book, it is that real.
You really don't have to take my word for it, members of the
Schoolhouse Review Crew
share their thoughts on it as well.

disclaimer: I received a copy of this book as a member of the Schoolhouse Review Crew in exchange for my honest opinion.