With two little boys growing up in a very modern world, I am always on the look out for stories that are timeless and filled with good moral value stories. I was grateful to receive two such books from
Grace&Truth Books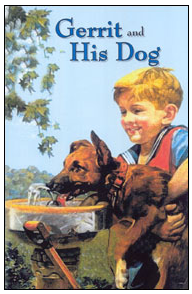 The first book we received
Gerrit and His Dog
was age appropriate for Cameron to read alone.Cameron has been reading about a page a day as his quiet time reading and has enjoyed the story. We talk about various lessons in the story and character traits as he reads. He often will rush outside to tell Daddy about the story. He wants a dog so bad that I think reading a story about a boy and his dog has lit a fire in him.
The second story is a surprise for Cameron as he hasn't quite finished the story yet. I hope and pray he will be inspired by the story at the end of the book as much as he has with the first story.
The second book we received
A Faithful Boy's Influence
was a surprisingly perfect devotional story with Nathan. I wasn't sure if it was going to be appropriate for a 7 year old, but as we read it together I could see his attitude changing, while we are still working on some issues of character and attitude there is hope. The second half of the Book is actually perfect for our little family. Ear's for Little Gleaners is a collection of Sunday School lessons so at times it reads like little sermons but it was again a perfect fit for Nathan. It stirred him to pay more attention when we have our devotion time (snuggle time as he calls it). The book
A Faithful Boy's Influence
retails for $6.25 and is worth it and then some.
Grace&Truth Books
has so many wonderful books I could spend hours searching and if I had the budget for it I could fill our shelves with so many wonderful treasures from the Christian book store.
They also have a wonderful
Facebook
page filled with encouragement. I encourage you to check out their
Facebook
as well as their
Store

disclaimer: As a member of the Schoolhouse Review Crew I received the above mentioned books in exchange for my honest thoughts on the books.