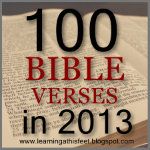 I have joined with a wonderful group on ladies to memorize 100 Bible verses in 2013. The idea is based on 100 Bible Verses Everyone Should Know' by Robert J. Morgan in 2013. where each week for 50 weeks we will memorize 2 verses.
.
Week 1's verses are:
Genesis 1:1 and John 1: 1
1

In the beginning God created the heaven and the earth.
1

In the beginning was the Word, and the Word was with God, and the Word was God.
I am writing mine on 3 x 5 cards although I have a preprinted pdf file I downloaded where the verses are already printed. I think writing it down will help me memorize it. I will also be having the boys memorize at least 1 of the verses each week with me.