While we do a lot of hands on math using several different programs, I was excited to introduce Cameron to some more educationa

l computer time.
Thanks to
A+ Tutorsoft Inc.
, I have been able to do just that. We have been approaching math in a more traditional way using theA+ Interactive MATH 4th grade CD. The program is interactive as the child listens to the lesson and watches the instructions and math problems on the screen. Each lesson also has a

question and answer section instead of traditional worksheets.
Since this is a new way of doing math for Cameron, I was thankful to see I could still print the worksheets. This was especially helpful on units he needed additional practi

ce

on. I set the expectation of 85% correct at the end of each lesson, if he got fewer than that correct I printed the lesson for

us to work on together.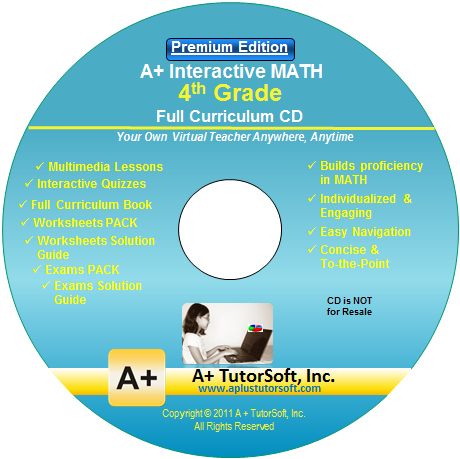 We only had to print out 2 of the lessons before he realized that if he paid a little more attention he would probably get enough right that he didn't have to sit with Mommy and redo the assignment.. We scheduled Math as part of his work at least 3 out of the 4 school days a week and will continue this way for another month or two before we decide if we are going to adjust his schedule.
Who knew 1 CD could change the way this crazy boy would think about Math. Instead of "blowing through" a worksheet, he actually had to sit and listen to the instruction and work through the problems.
A+ Tutorsoft Inc.
has both the CD curriculum and as well as an interactive online program for 1st grade through
Algebra
1 to cover your complete Math needs.
A+ Tutorsoft Inc.
has generously given our readers a bonus coupon that can be used through March 31,2013 giving them 50% of their order. Use promo code SPOFFER50 when you check out.(the code is case sensitive). The online program is available as a monthly ,
quarterly
, or annual subscription starting at $19.95 a month. The CD program is available beginning at $99.95. That coupon makes this an awesome deal, a full year math
curriculum
for under $50. If you aren't sure if this program is for you , they have a
download trial
on their website. I can't wait to see how much more progress Cameron makes this year with his math.