On my wish list last summer as we headed out to our local Homeschool Conference was a science curriculum where we could study Anatomy and Physiology without the focus being on diseases so much but focused on God's amazing creation. At the conference I showed my husband a couple of different ones but he didn't feel at the time any one of the variety we looked at really stood out. He said we should wait and pray for direction. So we started summer school without a science curriculum just doing a variety of experiments and videos going with what the boys showed interest in.
When the 2013 Schoolhouse Review Crew lists started coming up I was excited to see Apologia Science listed and when the review options came up I read the descriptions of each of the various products in the series to my husband. He had me read the Exploring Creation through Anatomy and Physiology twice to him.
I was elated to hear the energy in his questions about the program as I downloaded samples from the website. I was even more eager to introduced the boys to the program. I knew we would be receiving the
Notebook
(4th -6th grade)
Textbook
, and
MP3 CD audio
so I ordered a
Junior Notebook
(k-3rd grade) for Nathan to work on with us.
The boys have enjoyed the mix of Mom reading or listening to the
MP3 CD audio
. It is nice to have the option to listen the the MP3 if I need to do something. Also they can follow along in the book while the CD/MP3 track is playing on the computer. Listening to the author,
Jeannie Fulbright
read the book is a nice change of pace for the boys. They also thought it was neat that they were listening to the author read to them.
The book arrived and we dug in. Both boys have previously had a human body class in co-op so we decided to work through the book with our eyes open for new material. Both the boys were very excited about the skeletal system so we spent some extra time studying Lesson 2. We found the easiest thing to do was have the boys coloring a picture or doing something like drawing pictures while the lesson is being read (either by Mom or listening to the CD). Since this is our first experience with a science textbook in our homeschool journey I wasn't sure how they would handle this style learning for science. With a variety of "Try This" activities in each lesson, we had plenty of time to stop and try something new and talk about what we learned. This next week we will be finishing up Lesson 4 about the Digestive system and the boys are already planning what they want to do for their project: Design a Digestion Theme Park. The book has this as something inside with construction paper , but my boys are thinking obstacle course in the backyard., so I told them as long as Daddy gives them the ok, go for it.
One thing I really appreciate about this book is the Creation Confirmation; connecting what they are learning to God's perfect design. Hearing it from Mom and Dad or in church is one thing, but when you incorporate it into their daily learning it begins to really sink in. Also incorporating the Notebook journals into the textbook really helped the boys see value in their work. With the Personal Person Project they are piecing together a miniature example of themselves.
Since Cameron is older and using the regular Notebooking Journal (4th-6h grade appropriate) I printed off some coloring pages for him to add to his journal (he still really enjoys coloring pictures that coordinate with his lessons, I may even buy him a human anatomy coloring book to finish with this book)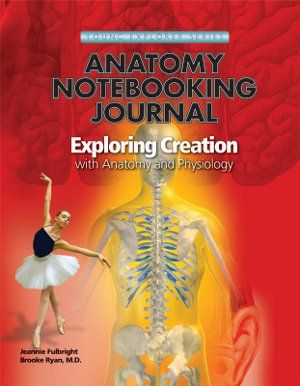 Overall we could not be happier with this program. It is easy to use and incorporate into our schedule, the textbook lists all the supplies needed for the various activities in the book and except for a couple of experiments the supplies are usually something we have in the pantry or school room or can easily pick up at Walmart or similar store.
The Textbook retails for $39.00, the notebooks $24.00 and the MP3/CD $29.
For us this is a value in that both boys are learning from the textbook and CD and each has their own personalized Notebook. I am actually planning on another Exploring Creation through.... set for next year , just haven't decided which one to do with the boys. I will be reading the crew's reviews of the other books to see what my fellow crew mates think.
Click to read more reviews from the Schoolhouse Review Crew

disclosure:

I received a free copy of this product through the Schoolhouse Review Crew in exchange for my honest review. I was not required to write a positive review nor was I compensated in any other way. All opinions I have expressed are my own or those of my family. I am disclosing this in accordance with the FTC Regulations.