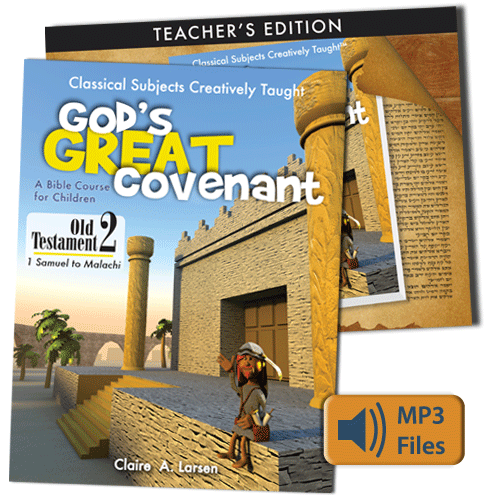 We decided to spend a little more time than suggested on each lesson, reading and listening to the MP3 lesson from the book , but also reading the stories directly from the Bible, and reading the stories in various other Bible Story books we have.
The Teacher's Edition , has lots of ideas to help your student learn as you read the lessons together with some wonderful thoughts. The one thing that I had to get use to, the teacher's edition was printed landscape instead of portrait. Made it easier to pick up when the 2 books (teacher vs. student) were on the shelf together. Thankfully it just fit on the shelf of my bookcase , still not sure how I feel about the manual printed landscape, but it isn't anything that changes our opinion of the program, just something to get use.
Cameron worked in the Student book while Nathan listened and answered questions. We both really like how the review pages are set up to easily match the lesson. Not only did Cameron work on his listening skills for retention, but he also learned how to skim a page if he needed to go back to find an answer. I love when a program ends up being cross curricula. We have been focusing on Samuel not only in several Bible studies, but also historically so the first lesson got a lot more attention then the others.
I love the MP3 audio files that are available as a downloads, it gives us a chance to listen to someone other than Mommy reading the lessons. We can listen to the lesson at home or via the laptop on the road or at the park. As we continue with this program the rest of the year, we will be using the MP3 audios more and more and is a value at only $9.95.
I thought about if I couldn't afford it would it make sense to only buy the student book for $22.95, the more I thought about it the $44.95 bundle price for both books is really a value and I don't think I would be able to teach the program as well without the teacher's manual. If I had the budget I would add the Timeline and Map set that covers all three books in the series for only $36.95, especially if you are planning on using the entire series.
The Schoolhouse Review is reviewing the Old Testament books as well as the Song School Spanish program.
Click to
read more reviews
from the Schoolhouse Review Crew

disclosure: I received a free copy of this product through the Schoolhouse Review Crew in exchange for my honest review. I was not required to write a positive review nor was I compensated in any other way. All opinions I have expressed are my own or those of my family. I am disclosing this in accordance with the FTC Regulations.