Handwriting is a very personal thing in my world. Your signature and how to write tell those around you something about you, so I asked my boys what kind of impression people would have of them with their handwriting the way it is? They both realized it wasn't going to be a very positive one.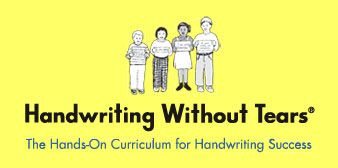 Thankfully I was able to tell them we would be focusing on handwriting a lot this year and would be introducing them to a new program,
Handwriting Without Tears.
We would be working through the
Second Grade
with both boys, since both boys' handwriting left a lot of be desired.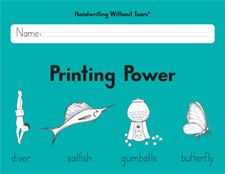 Nathan started out the program with a bad habit that I must take full responsibility for , writing in all capital letters. Cameron likes to write capital letters when and where ever, making reading some of his work difficult. Thankfully, Handwriting without Tears has a wonderful teacher's manual that lays out each of the letters and tricks to easily teach the boys. I decided to have Nathan work on Printing Power and Cameron work on through Kick Start Cursive since he is already in the 4th grade but hasn't worked with cursive very much.
We started out with a little frustration from Nathan as he thought he already knew how to write, thankfully as we got into the book he realized he needed some work. One thing he is frustrated with is the smaller lines in the 2nd grade book, but I have told him if he would like bigger lines I can make him some paper to use for copy work and creative writing. He is really catching on to the cues in the book and with only a few reminders is seeing a lot of improvement in his readability He was crazy happy about writing his name on the front cover of his book, we decided to hold off writing in the inside cover until his penmanship improves, kind of a before and after look at his writing.
Cameron has been very happy with learning cursive using the Kick Start Cursive even if it is a 2nd grade level and is even looking forward to starting another level later this year. I am so grateful for being able to be flexibile with the boys and show them that labeling doesn't have to mean anything. It is just a guide and a starting point.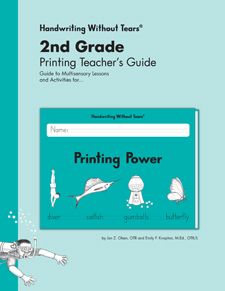 The teacher's manual retails on their website for $9.25 and the Printing Power Plus which includes both the printing and cursive books in a bundle is $10.25.
Handwriting without Tears has a full range of Preschool - 5th grade penmanship programs and various manipulatives to enhance the child's learning of letters and words.
We have been very happy with the program and will be purchasing additional books for both boys to work through.