This year the boys and I are once again participating in several service projects within our local community including harvests and donations involving school supplies. I want my boys to appreciate what we have and know that even when it doesn't seem like much something simple can make a big difference in someone else's life. I also wanted them to understand what the Bible says about helping each other and loving our neighbor even our enemy.

When Apologia's Who is my Neighbor curriculum came up for review on the Schoolhouse Crew I was excited because it fit so well with the direction I was going this summer with the boys. I had seen the other books in the Who is series from Apologia and while they sounded interesting and useful I wasn't as drawn to them as I was with this title.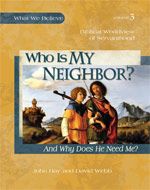 Who is my Neighbor
is the 3rd book in the series from Apologia and can be used as a stand alone or in sequence with the
first 2 books
.
Who is my Neighbor
textbook is a hardcover full color book full of stories , scripture, lessons, and real life scenarios for the whole family. The textbook retails for $39.00. Also available is the
Notebooking Journal
which retails for $24.00 and a
color book
that retails for $8.00.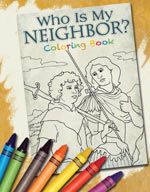 We are using the whole program as a family so we are doing most of the questions as narration rather than having the boys write them down. I purchased an extra coloring book so each of the boys have their own and as we read the various lessons from the book the boys can color and discuss the picture that coordinates with the message and story.
I am thoroughly enjoying this Bible Study with the whole family and have been very excited to see the boys enjoying this too. Now that we have used a portion of this program I am really looking at getting the first 2 books as well as the newest book in the series over the next few years as a family devotional lesson.
If you are interested in this program, Apologia has
samples
of the books as well as the coloring pages that can be downloaded.
This is a very good value for the price, even if it seems high, the overall content and the way it is written pulled my whole family into the Word so it is a good value and a blessing.
Check out what the rest of the crew thought of the program below

disclaimer: We received a copy of the above mentioned product as a member of the Schoolhouse Review Crew in exchange for our honest opinion of the product.