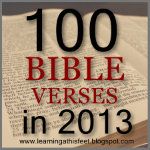 Here we are at week 4 already! I'm including some extra images this week thanks to Marcy from BenandMe
This journey is based on the book 100 Bible Verses Everyone Should Know' by Robert J. Morgan in 2013.
This week's verses are both from Romans
Romans 5:8
8
But God commendeth his love toward us, in that, while we were yet sinners, Christ died for us.
9 That if thou shalt confess with thy mouth the Lord Jesus, and shalt believe in thine heart that God hath raised him from the dead, thou shalt be saved.



I love how Marcy is keeping it simple with index cards and colored pens to write the verses.
Hope you have a great week.