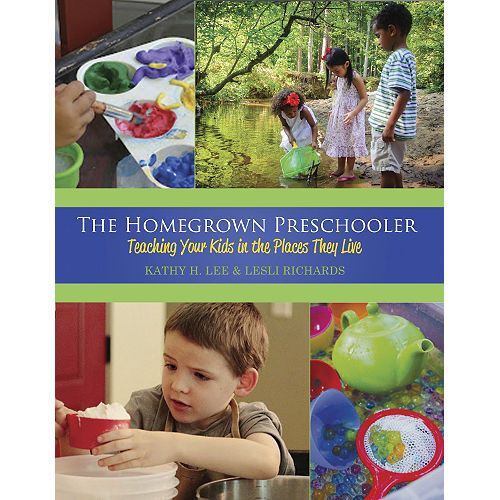 Some days I miss the fun of preschool, thankfully I received a wonderful book to review from
Gyrphon House
.
The Homegrown Preschooler
, became the inspiration behind Auntie School. Auntie School was and still is our summer school with my 2 adorable nephews and my fun loving boys.
Gryphon House publishes a variety of books geared toward to younger learners. There collection of books would have been an awesome resource when we started. Thankfully, I get to put some of the fun activities into action with my nephews.
The Homegrown Preschooler is a 224 page jam packed collection of activities, idea, organization, and tricks for teaching little ones in their places and retails for $29.95. ven though my kids are older , there are some of the organizational ideas that will still work for us. Also what kid doesn't like messy art projects no matter what age they are.
Tea parties aren't just for little girls, my boys and the nephews love to play restaurant , serving wonderfully imaginative dishes. Helping cook is a huge part of growing up, there are several cooking activities listed in the book
Two of our Auntie School days included simple activities. The first , theme building with Duplo blocks and learning to spell names. My youngest nephew was so excited to write his name and his brothers name of a magnet board, matching some LeapFrog word wammer letters and then writing the words. The second day, we stepped it up a bit by playing story cubes and taking turns telling stories followed by a nature walk in the back yard. The little boys loved the 'nature hike' around our pond and through the variety of trees around the pond, something so simple brought so much excitement. It really doesn't take anything more than a bit of creativity and a lot of love.
Of course we had to have a group shot with Auntie, Grandma, and all the boys, somehow I think my oldest ended up taking the picture so he wasn't in the shot.
We are hoping to get a couple more Auntie School sessions in before the nephews head back to school in September. My goal is to have some chalk art and maybe even a couple finger painting projects. My boys love making chalk art cities for their hot wheel cars and suggested talking about maps, cities, counties, etc... as a fun activity. Also love using side walk chalk for hopscotch, jumpjack math, etc... all fun number and letter recognition activities.
So many fun ideas and activities and so little time. If nothing else this book with inspire you to be more like a child and honestly is there anything better than seeing their little faces light up while they are learning something.
The Schoolhouse Review Crew reviewed not only The Homegrown Preschooler, but also a wonderful book ,
Global Art
. I myself am looking forward to a tall glass of ice tea while I read all the wonderful reviews and glean even more ideas to add fun to Auntie School and our general homeschool life.
Check out the review by clicking on the button below.