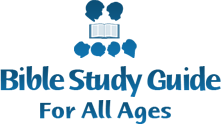 Studying God's Word as a family is a huge thing for this Mom, but sometimes finding something that fits that bill is tough, thankfully we received a review item recently that fit the bill perfectly,
Bible Study Guide For All Ages
.
We received two different levels to review,
Beginner
and
Intermediate
. Along with these student pages we also received the following items:
Beginner Time Line
,
Children's Song CD,
and
Bible Book Summary Card
s to use with the program.
We decided to go with the Beginner for Nathan as a way to work on some issues we were having with following directions and his need to continue to work on his fine motor skills related to coloring. I am glad I made this decision as the stories are the same in each level just adding more concepts and memory work as the levels progress.
Bible Study Guide For All Ages
is a multi -level Bible study program that takes all levels through the Bible at the same pace. The same stories are told at each level which helps with continuity. The boys could have discussions about their lessons even though they were studying at their own levels.
Beginner is intended for ages 3 through Kindergarten
Primary is intended for grades 1 and 2
Intermediate is intended for grades 3 and 4
Advanced is intended for grades 5 and 6
Although the Beginner set is really intended for younger children I was still very happy with the results with Nathan. We did the lessons together with both boys so the story was more important than what was on the page in front of him. I also left out the detail of what the recommended age was when we opened the box.
The student pages we received contained 25 lessons which retails for $5.95.
The Timeline Cards and Children's Song CD we received coordinate with the level in the student pages but also engaged both boys even though they were working at different levels.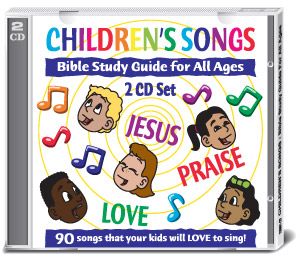 The songs on the Children's CD were all short but easy to learn and fun to sing along with. Surprisingly my boys actually began singing the songs without the CD as we worked through a few lessons. While they haven't "learned" all the songs yet, they have listened to both CDs repeatedly, almost to the point that I have to put a time limit on these CDs. The 2 disc set retails for $19.95 which is a value considering the number of songs in the set (90 songs)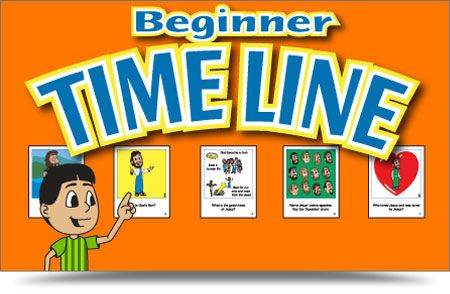 The Timeline cards which retail for $24.95 contains 34 full color 8 1/2 x 11 picture cards that simplify the Biblical Timeline for younger students and include keywords to help them remember the various stories. We decided to put our cards into a binder and slipped each card into a sheet protector giving us the option on making extra notes with a dry erase pen if we thought of questions or ideas related to the story.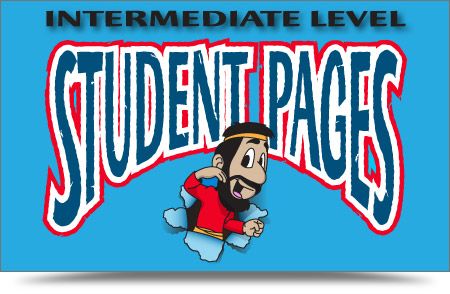 The intermediate Student pages also include 26 lessons and retail for $5.95 a set follow the same stories with just more detail and longer reading/ listening passages. The questions in each lesson are at a 3rd / 4th grade level but still manageable to youngers that may be listening. The coloring is more detailed but also gives room for some creativity. Cameron enjoyed searching the Bible passages for the answers to the questions of his pages and seemed to connect with the stories as well as the Bible Summary Cards.
The Bible Summary card set contains one card for each book of the Bible in full color 8 1/2 x 11 size. Again we slid these into sheet protectors and a binder to keep them together and easy to use. Having these in protectors also allowed Cameron to write favorite verse from each book on the sheet protector with Wipe Off Crayons or pencils.
Overall we have really enjoyed this program especially as a summer Bible Study program for the family. It was easy to pull out a lesson sheet for each of the boys and have them work on their page while Mommy read the story after lunch as a low key yet meaningful activity.
I did find out from several of my local friends that this program has been used in a couple of the local churches as well as homeschool families. I love hearing how other families have incorporated this program and the various add on pieces. As a homeschool Mom , I often find myself tweaking a program and then wondering how others are using the same program in their situation. The Schoolhouse Review Crew reviewed a variety of the Bible Study Guide for All Ages products and share their experiences, you can click on the button below to read their thoughts.