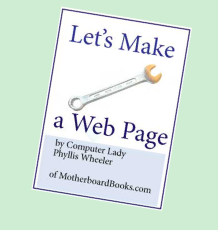 I am excited to share our latest review with you. We received the e-book
Let's make a webpage
from
Motherboard Books
for Cameron to use and explore more in his computer programming/ webpage design elective for the year.
This 60 page e-book retails for $19.95 and is recommended for children ages 8-12 and is set up to cover in a shorter period of time, not a full year as it is a project based book.
The book came with the recommendation to download a free trial program called Coffee Cup, I decided to download a different program that did not have a free trial on it, and so I had to tweak the instructions with Cameron slightly. I didn't have a problem tweaking the instructions, but I am kind of an IT geek and studied web design including Java and HTML in college. If you aren't comfortable with tweaking things within the computer world, I would recommend downloading the free trial from Coffee Cup so that it will align with the book.
Cameron enjoyed the freedom web design gave him unlike the previous computer IT program gave him. He was able to work with pictures from his own camera and write about those pictures. He even had the opportunity to test his page live using our blog, although I did not publish his page yet (I'm waiting for the ok from a couple of parents whose kiddos are pictured).
We decided to not include sound on his page as that is one thing that turns me off from many pages and blogs is sound that I can't turn off. We did talk about embedding objects including players where the music or sound could be turned off. This book has led to his understanding of my blogging and page design a bit more as well as an appreciation when I get frustrated with formatting or HTML coding.
I appreciate e-books like
Let's make a webpage
not only for the project based learning but for the skills it reinforces such as keyboarding and basic computer skills along with the HTML. It also incorporates project skills including planning, outside issues (photo releases), and problem solving. Cameron also found that a web page can be an art project that includes color, layout, and aesthetics.

Motherboard Books
also has another program for the 8-12 age group,
Logo Adventures
covering computer based drawing and animation as well as several other computer focused programs for kids.
If you are looking for something that will help keep your children involved in computers so that they don't get lost in the technology jungle, but safely educate them I highly recommend
Motherboard Books
as a company to consider. You can also interact with Motherboard Books on
Facebook
and
Twitter
. On their homepage you can sign up for their email newsletter and receive a free Internet Scavenger Hunt to help students get comfortable searching the internet for information.
The Schoolhouse Review Crew reviewed 2 of the products mentioned in this post, click below to read their thoughts on the products.
]