It is such a blessing to combine any subject with solid Biblical teaching; it is even a bigger blessing to receive the product as a review.

That said,
See the Light
has been a huge blessing to Cameron over the past weeks. He is finding a voice in art and hearing a good message from the teachers on the DVD
God's Special Surprise
.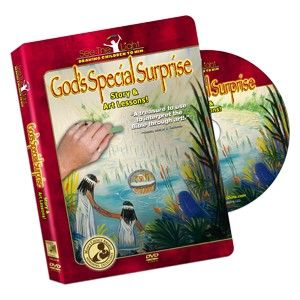 The DVD is part of the Bible Stories series from See the Light and retails for $14.95. With over 4 hours of content including 3 complete art lessons, music video and story, this DVD packed with a solid message of God's Hope for his people contains more than just art lessons. The lessons are designed for ages 6 and up. My 7 year old struggles with writing skills a bit and isn't a huge art fan so I really selected the program for my 10 year old and this is a story he enjoys and it fits into our history lessons on Ancient Civilizations.
I started out by previewing the DVD and pulling the art supplies I had on hand. Thankfully all I needed to purchase were the Extreme Colors colored pencils. Since I love anything Crayola I picked up the twistable crayons in the extreme colors as well and a set of cake watercolors to have extra.
When we got started with the viewing and were heading into the third lesson I realized we did not have a single ruler in the house (just a yardstick which wasn't much help), so I put our art lessons on pause to go into town and pick up one missing element. Cameron's favorite lesson from the DVD was the creative lettering lesson "SURPRISE!" . Not only did he get to practice writing in all capital letters, he was able to pause the DVD when he needed to and really worked hard to put together a page of chiseled letters and a fun stone carving of his name. We are working on creating a "carving" of house rules to go along with our history lesson and things we have learned in these wonderful art lessons.
The boys even want to put a black light in their bedroom so they can hang cool art of the walls and see it in the dark, I love black light so I guess I will be purchasing a couple extra black light bulbs for their clip light.
I also decided to experiment a bit with the boys and art outside. We also purchased a large selection of sidewalk chalk to try sidewalk chalk art using some of the lessons learned with the DVD. It was a lot of fun (wish I remembered to take pictures) They enjoyed trying some of the techniques from the Hope for a Nation lesson. By the end of the series of lessons even Nathan showed interest in what we created. Sometimes I just have to let him come to us when we are doing our lessons. Cameron has already asked about doing more See the Light art lessons (guess I know what will be on his wishlist for birthday and Christmas).
Be sure to check out the rest of the Crew and their thoughts on this amazing program!