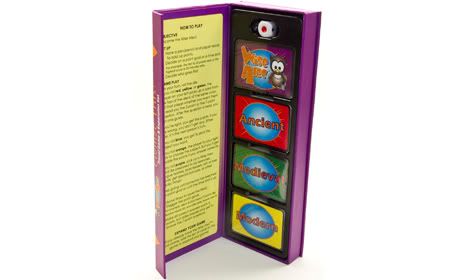 When I received this fun card game I wasn't sure if they boys (6 and 8) were going to be able to play. I was happy to find that the questions have 2 levels and the game is fairly adaptable.
The questions cover Ancient Civilizations, Medieval Civilizations, and Modern Civilizations in to age categories. The questions in the easier category are worth 3 points while the harder questions are worth 7 points. There is also a set of Wize Alec cards that cover a variety of fun task style activities to earn points.
When we played with Cameron some of the easy questions were too hard for him so I gave him multiple choice answers. I will definitely kept this game as we move back into Ancient history next year and refresh our memories.
Civilize This from Griddly Games Inc. is available at a
variety of retailers
as well as online retailers like Amazon. With a $14.99 price tag this is a great game for road trips, family game time, as well as homeschool groups. The case that holds the die and the cards is sturdy and has a magnetic closure keeping the cards in their place nicely. The box itself is small enough to keep in a backpack for road trips and such.
I also enjoyed the fact that the questions covered a variety of civilizations and cultures without a bias toward one. Both boys were very successful in the Medieval category as we had several unit over the past year that fell into this category. This card pack can also be added the Wise Alec Family trivia game as an expansion set or be used as a stand alone game for added value. Since we are on a tight budget like some many families I love the added value factor of the game.

I receive a copy of the above game as part of The Old Schoolhouse Homeschool Crew in exchange for our honest review of the game. All opinions within this review are ours along, no additional monetary compensation was received.