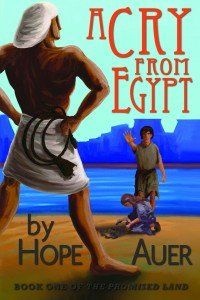 As we are studying Old Testament Bible History this year, I was very eager to have Cameron read
A Cry From Egypt
as a read aloud.
A Cry From Egypt
is written by Hope Auer a recent homeschool graduate and published by
Great Waters Press
. Hope began writing the story as a school assignment at age 13 when her family was studying Ancient Egypt.
A couple of things I really liked about the book, while the story takes place during the 7 plagues in Egypt, Miss Auer isn't retelling the story, she is following a family on the outside of the story as they come to know Yahweh as a family in this amazing time.
I'm leaving most of the review up to Cameron as he has been the one really reading it, but as a parent of a reluctant reader I was so happy I could share this book with him. Showing him this book written by a young person who was homeschooled gave him a sense of hope in his education and a hope that his struggles with reading could become something bigger as he grows.
You can purchase advanced readers copy for $12.50
online
. You can also follow the author's
Facebook Page
for fun insights into her writing and upcoming information about the book.
Cameron reading a book (not sure which one)
Cameron's thoughts on the book:
I thought the book was hard to read at first but once I got use to the new names I really enjoyed the story. Mommy read with me so I didn't have to read it all by myself. I also liked learning about the different names of God, that was something new for me, it made me want to read more in my Bible to find out more about his names.
I liked reading the story because it was about children and their story how they came to know God.
I don't really like reading that much so sitting down and reading the book out loud was hard but I'm glad I did it. Reading it out loud made the story come to life. I know the story of Moses and the seven plagues , but I never thought about the other people and how it really made them feel.
I don't want to give away the story and I haven't quiet finished the book so if you comment please don't tell me the end. I'm a slow reader but that is ok, if I keep reading I will get better.
I was so glad Cameron agreed to share his thoughts on reading this book on the blog. He didn't want to write it himself, so I asked him to narrate to me and I would type it. This book is recommended for ages 8 and up and but also makes a good read aloud for the whole family if you are studying Ancient Egypt from a Biblical perspective.

disclaimer: as a member of the Schoolhouse Review Crew we received a copy of the above book to review and share our thoughts with you our readers.