I often wondered if I would go back to school, but with 2 little boys and my husband's business I generally felt that it wasn't a high priority, until I received the opportunity to take a course at home on my own time. Thanks to National Tax Training, an approved
Continuing
Education provider for showing me I still have it in me to learn the hard stuff. (don't get me wrong being a homeschool Mom presents me with plenty of hard stuff on a daily basis)

A little bit about
National Tax Training School
: National Tax Training School is the only National
accredited
correspondence
program specializing in tax training. They are an approved Continuing Education Program and prepare students to take the IRS's registered Tax Preparer Exam upon completion of the program.
The program can be completed in as little as 8 weeks but students are given upto a year to complete at their own pace.
I have to be honest, the idea of hitting the books this hard was
exhilarating
but a little scary at the same time.
I have been out of college for 15 years and even when I was studying for various program tests in corporate America it was never this big. Finding the time is a challenge, between homeschooling the boys and our active participation in our local gleaners program (harvesting various produce from local farmers) as well as putting up the harvest I wasn't sure if I would be able to do it all. I actually surprised myself. I tackled it even with a few very late night sessions. I fell back into the student patterns of old easily but found that too many of those late nighters make Mommy a different character. I will continue with the program and am even going to use their online program to submit self tests and exams. It is nice having the combination of print and online for an activity such as this. Studying on the computer late at night is less disruptive to the family unit then trying to hide in my bedroom and study out of my binder.
I found highlighting chapters with color coordinating tabs and using matching highlighter pens made it easier to keep track of what I was on as each chapter is less than 50 pages including examples and the test for each chapter.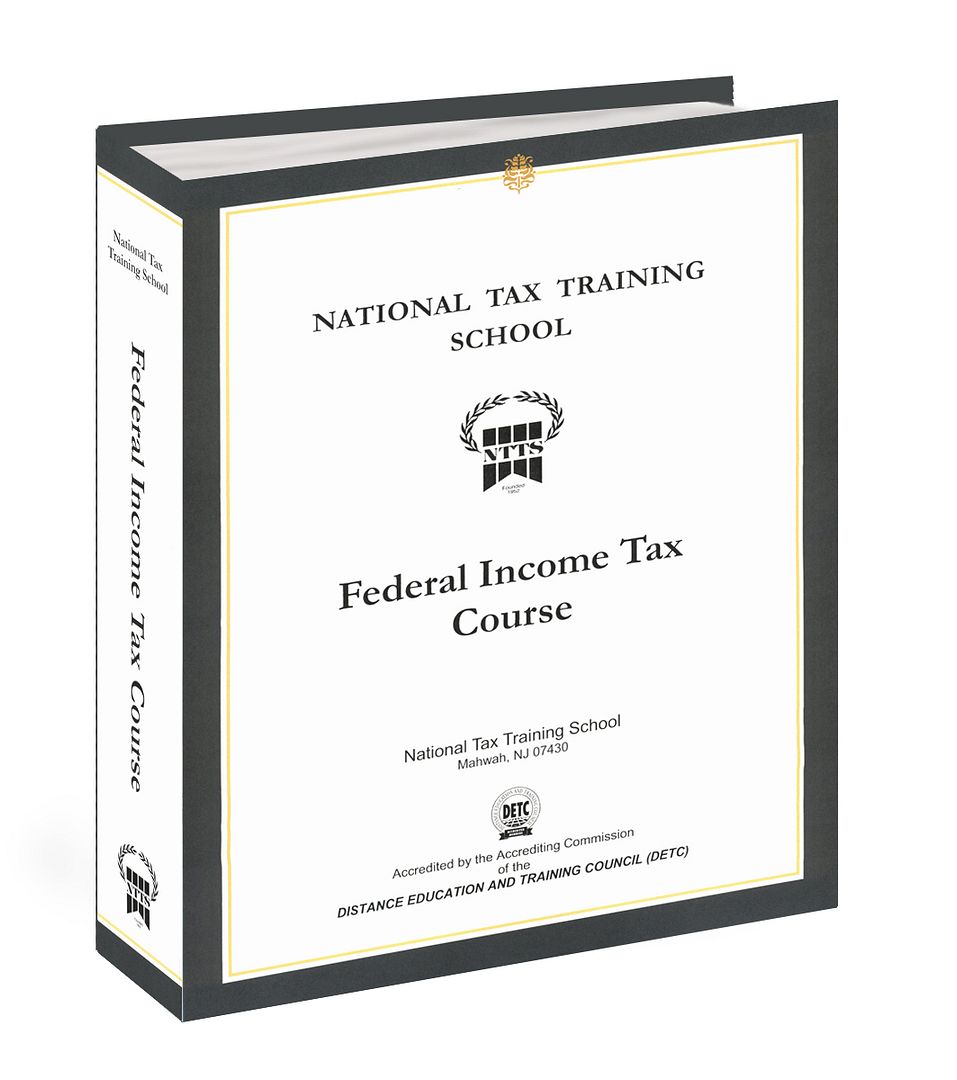 With 2 complete binders and 20 lessons of material, we also received a book on setting up your own tax practice which I could see doing if I wasn't teaching 2 boys and acting bookkeeper for my husband's shop. I love the idea of helping people work through the tax code as it is a confusing jungle and I understand why most have someone do their taxes for them, although I have always done my own and am feeling more confident now with this course.
Enrolling
in the course is easy and can be completed online. The
program is a complete
program with post graduate services as well as Instructors who are available to help, practice case studies, self checking tests, and exams.
I am really enjoying this course, but you don't have to take my word for it, see what the rest of the crew
thought of the program
You can also check out
National Tax Training School on Facebook

disclaimer: As a member of the Schoolhouse Review Crew I received the above mentioned program to review and share my experiences with my readers. No monetary compensation was received.