We love unit studies to add variety to our school time, so trying out
Box of I.D.E.As
. boxed unit study sounded like a lot of fun. We chose to try the
Salt study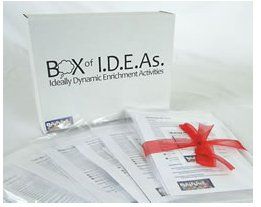 We received our box filled with 11 bagged enrichment activities including titles such as : History of, Science of, Too Much Salt, Need for Salt, Preserving with Salt, Salt of the Earth, and five more topics. The activities are portable and easily adaptable for younger and older students. I found the boys asking to do "Box Bags" as they began calling them.
The variety of activities meant we could replace a history activity one day , or a science activity without feeling like we had missed that subject.
The boys loved playing the SALT game and even had Mommy come up with a few extra questions and have already asked for more questions, which tells me they want to play the game again and are responding to this style of "test" (guess I will need to find more game style tests for them in the future)
We did find the boys really started thinking about the sodium content in packaged food after doing the too much salt activity.
Nathan was actually the most conscience about it after the activity. He knows Mommy isn't suppose to have too much salt so he began being gently critical of how much salt things have in them. He also became aware of the struggle to balance enough salt for Daddy who works hard and needs to the salt to replenish lost water and salt in his system and Mommy's need to not have a lot of salt.
They have already asked if we could do this class with our co-op, to which Mommy replied "I'll think about it"
So now to the nitty gritty stuff. The Salt Box physical printed copy sells for $79.00 with an option to purchase extra student modules for $4.00. I will say I had sticker shock at first but the time saved in sorted and packaging and planning because of the Box is worth it. I know we will be able to revisit this unit again when the boys are a little older with a new perspective The pdf version is available for $49.00 which again seemed steep until we really began digging in and getting to know the product.
I know they are working on adding a devotional aspect to the box but honestly we ended up having the boys use the concordance and look up Salt then find those verses in the Bible. (that added another wonderful aspect to the study, they learned about another wonderful tool they can use to find answers to questions or at least guidance when looking for answers)
There were so many wonderful things about this product. Honestly, it really gave me back the sense that I can still do this. I started this year off struggling to find the balance between the basics and the fun of unit studies. Having everything prepackaged and planned for me made my life that much easier to deal with; and homeschool moms know that it isn't as easy as it looks and sometimes we need a little extra help.
Thanks to for being that little extra help this Mom needed.
Find
Box of I.D.E.As on Facebook
and find out what the rest of the Crew thought of
Box of I.D.E.As

Disclaimer: As a member of the SchoolhouseReviewCrew we received this product free in exchange for our honest review of the product and sharing it with our reader.