A kids' study Bible seemed a little over the top but I am trying to get the boys into their Bible Study so I am willing to give it a try.
Once we received the
Deep Blue kids Bible
, we were hooked and I do mean 'we'.
With any new to me translation I always pick a couple of key verses and look them up to get a feel for the translation. I started out with 1 John 3:1-3
1.See what kind of love the Father has give to us in that we should be called God's children, and that is what we are! Because the world didn't recognize him, it doesn't recognize us.
2. Dear friends, now we are God's children and it hasn't yet appeared what we will be. We know that we he appears we will be like him because we'll see him as he is. 3. And everyone who has this hope in him purifies himself even as he is pure.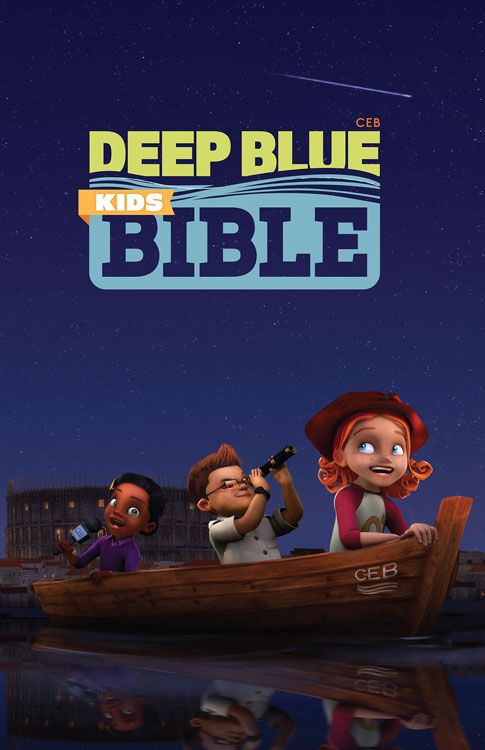 With a clearer view we dove into the study aspects of the Deep Blue Bible knowing the translation wasn't going to change our understanding of the words but only clarify it.
The front of the Bible layed out that various in-text notes that we would find. Cameron immediately liked the sailing theme as our school mascot is the Sailors. The front of the Bible also had a nice variety of tools including an Abbreviations list that opened up a lot of conversation about the history of the Bible in print, a Measures list that explained the various measurements used in Biblical times and mentioned in the Bible, and finally the Preface that talked about the translation and a little bit about the King James Version which again led to conversation and connections as we had recently studied Bible translations in a different unit.
Joining the Deep Blue Crew are Asia, Kat, and Edgar. Cameron enjoyed the characters and really got excited to find the characters throughout the Bible, especially with the God's Thought / My Thoughts sections. This past week the boys were working on Psalm 23 in Sunday School and when we looked it up in the
Deep Blue Bible
Cameron found a "Life Preserver" under the scripture that talked about why Psalm 23 is so popular and reaffirmed what the teacher had been talking about God is always with us and protects us.
In the back of the Bible there are even more wonderful study tools referred to as Exploration Tools and include a Dictionary, a section of
I wonder what to do when I'm ...
full of verses to refer to when you are in various situations or moods, and a list of Deep Blue Notes by topic, and a Bet you can reading challenge where various passages are assigned times. Cameron isn't a fast reader so it took a little longer to read most of those passages but the challenge is there for him either way. Finally the last several pages are Bible maps giving the kids a visual way to connect some of the dots in various stories.
I want the boys to be able to find the answers they are looking for and to that end I have made sure they have a variety of translations available to them when studying , thankfully this one is more than just an other translation, it is full of tools and resources to really help them Get DEEP into the WORD.
Deep Blue Kids Bible has
Resources
online as well. This Bible is available at a variety of online retailers and in a variety of covers and also offers Teacher and Class resources. I am very grateful for the opportunity to review this particular Bible with Cameron at this season of our journey.

disclaimer: as a member of the Schoolhouse Review Crew I received a softcover copy of the above mentioned Bible to review and share on our blog. No monetary compensation was received.