This isn't something I talk about here, but as a busy homeschool mom I don't always have a lot of time to spend putting on makeup let alone shopping for a high quality makeup. I know most homeschool moms especially moms with younger kids don't have a lot of time to treat themselves that is why I was so excited to share this review with you, those moms.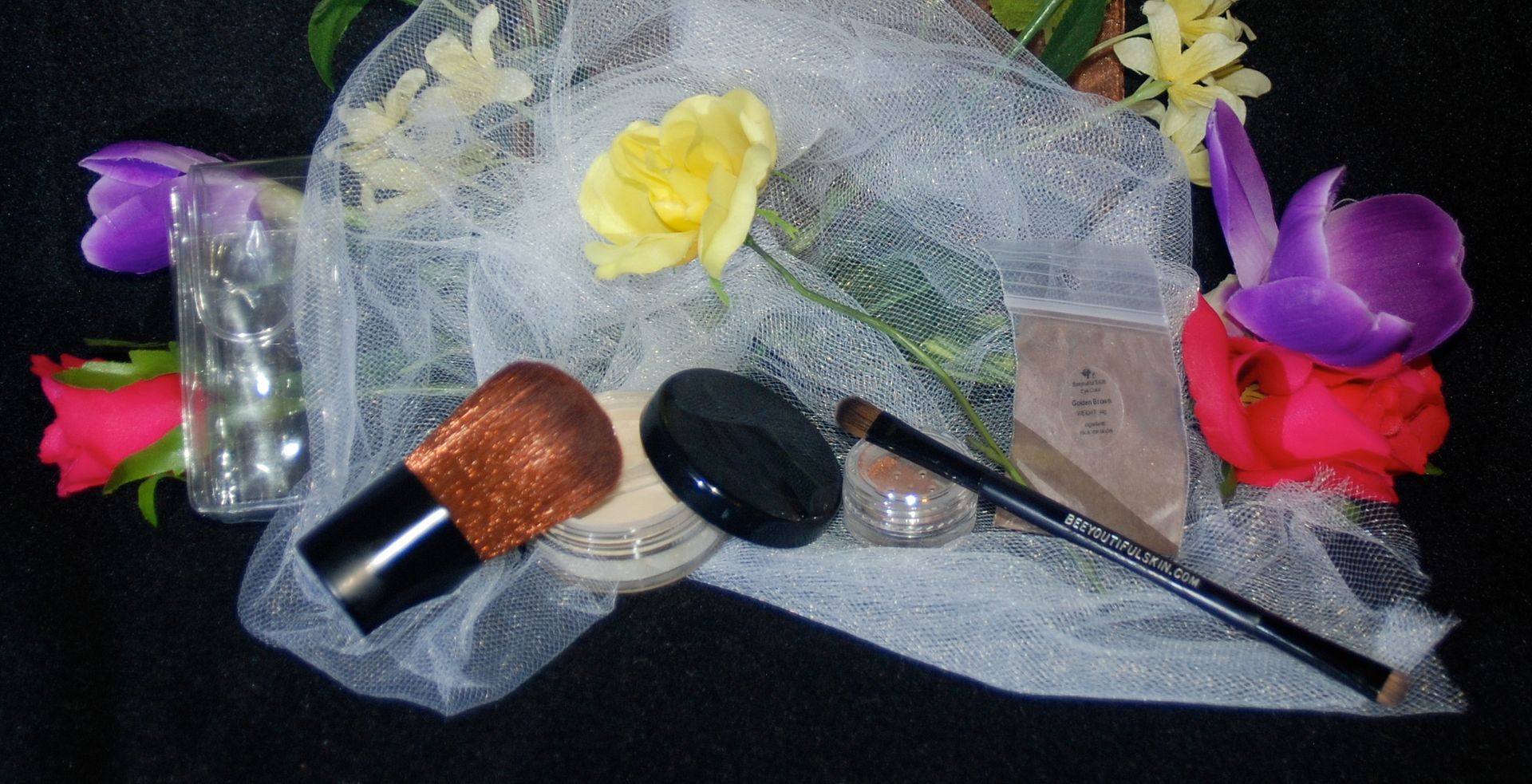 I received a lovely assortment that included the following:
a
foundation
, the
foundation brush
, a
full size eye/lip color
, a sample size eye/lip color, the
multi-purpose makeup brush
, and a DVD.
Let me back up though, prior to receiving this awesome kit I received 3 samples of the mineral make foundation to find the perfect color for my skin, and the samples were large enough to get several uses out of each so I was able to actually wear each color for a full day and get reactions from my husband.
Mommy with no make-up
Now, I will be honest, I don't wear a lot of makeup. Why? I've always had a hard time finding something that didn't look and feel weighted down or a good color match. In combination with not taking the time to put makeup on in the morning, I found the fight to find a good product wasn't worth the effort.
Most days I go without and have just decided that is the way it is going to be. I will on
occasion
put something on if we are going out or something.
This is me, most days (although I tend to wear my hair pulled up more than not)
Thanks to a wonderfully simple process and amazing tools I was able to quickly, yes quickly, apply makeup. Using 3 100% mineral based products: Ophelia foundation, Cinnamon Sparkle and Chocolate Shimmer eye/lip color, I was able to create a simple natural look. With the right product and the right tools I spent about 15 minutes applying makeup, seriously 15 minutes is all it took. I watched the DVD videos for a variety of
techniques
and settled into something relatively easy.

I applied the foundation to my face (clean but without any extra moisturizer) using the foundation brush over my entire face including under my chin to even out the color of my face. I used a quick circular motion with very little powder on the brush.
With my foundation done, I moved to eyes and lips. I don't need to wear blush as I tend to have enough color in my cheeks with freckles and a pinkish color anyway.

For eyes, the combo brush is amazing! The double ended brush was the answer to applying eyes and a liner. I used both colors to create a simple look. I used the Chocolate Shimmer and the thin end to apply a line under my eyes and the softer brush to color the lower lid. Then without cleaning the brush I applied the Cinnamon Sparkles to the rest of my eye lid to the brow. That was easy and not overdone.
Now to finish the look,using the thin end of the brush I applied the Chocolate Shimmer to my lips and then I used a lip balm (whatever I had handy) to top it off as I tend to rub my lips together a lot, I added the lip balm.
Mommy with Beeyoutiful Mineral Makeup
There you have it, my new 15 minute Mommy Makeup time. It really was that easy.
I even find I don't have to touch it up during the day.which is awesome. The first couple times I wore it all day, I kept checking the mirror to see if I needed a touch up and other than the occasional lip touch up after eating or drinking a lot it was amazing.
What I love is that the whole package is reasonably priced considering the quality.
The Eye Color is .54g and retails for $10 (I have used mine almost daily and it hardly shows in the container)
The Foundation is 3.7g and retails for $25, and again it doesn't look like I have used very much of it since it doesn't take much.
Good Makeup brushes are an investment , but these brushes are affordable for the quality product. The Foundation brush retails for $11.00 and the combination brush for $6.50
Those may seem like high prices, but once you consider the quality of the product it really is a value.
I have tried various cream foundations that retail for as much as $35 for a similar amount of uses and never been this happy with the results. A friend told me recently once you've tried mineral makeup you won't ever go back and honestly I can say I agree. I don't ever want to go back to cream foundations or even pressed powders. Beeyoutiful Mineral Makeup has really make is possible for me to wear makeup again.
Don't take just my word for it, the rest of the crew shares their
thoughts
Beeyoutiful
is more than just make up, they have a skin care line along with an amazing variety of natural healthy products.

disclaimer: I received the above mentioned products as a member of the Schoolhouse Review Crew to test and share my honest opinion with my readers, no monetary compensation was received.