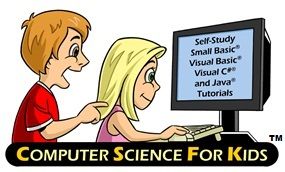 Are your kids ready for computer programming? My boys , are almost, so I was excited to receive
Computer Science for Kids
to use and review. As the family computer geek I was crazy excited to share my love of computers with my boys. I am a computer geek from way back. I actually owned a Radio Shack TRS-80 and a Vic20. I learned Basic programming on an Apple IIe in elementary school and junior high. With that history I was overly excited to teach my boys Small Basic programming.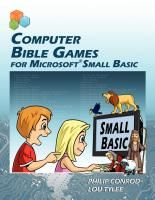 While my youngest is more interested in mechanical stuff , my oldest is still undecided and thinking computer gaming programming and such could be interesting. Cameron is 10 so I decided to work with just 1 on this program at least to start. We received
Computer Bible Games for Small Basic
in e-book format which retails on sale for $34.95 and
Beginning Microsoft Small Basic
. The e-book contains 11 chapters designed to take 3-6 hours per chapter. My plan was to get us through chapter 4 or 5 in time for review, oh the best layed plans. Cameron struggled with the lessons but is enjoying them. We did lessons on history of computers which was fun, we also did a basic computer skills lesson which let me in on his struggles so we spent more time on creating, editing, saving, finding, etc... then I had initially planned. The time we spent together has been good for both of use though, I have slowed down my pace a little bit more and allowed his pace to move forward naturally instead of pushing so hard. Thankfully, he is enjoying the lessons more and is actually making the connection between what he is learning and where it can lead.
The program itself if written for middle school students but is written in a fashion that kids are programming and understanding the Small Basic Language quickly (or in our case at their own pace). Being able to incorporate Bible elements into the programming adds fun elements that are cross curricula bringing his learning full circle. As we progress through the program (we are continuing along even after this review) he will continue to make connections. He has already asked if he can create something to go with his weekly Bible Lesson; this make Mommy happy since I was afraid it was too over his head. He excitement has also let to him setting up and maintaining his email and showing more interest in the blog and possibilities in the future.
Since the book has 11 chapters and we are averaging a chapter in about a week and a half (6 class sessions), the value is very good. The e-book is easy to use; each chapter/ lesson is a separate pdf file, making assigning chapters on our planner quick. Cameron is able to locate the file , open and begin reading the lesson while I get his brother set up on whatever subject he is working on. It has given his a little more responsibility for his school work and independence. He knows the expectation and knows if he doesn't get himself started it just means Mom is going to have to sit with him until her finishes it.
You can read more from the Schoolhouse Review Crew
HERE