Reading historical fiction has always been one of my favorites, so I thought I could instill that love of history through reading to my boys. Reading stories of the past somehow makes studying the historical timeline more interesting, or at least that is my thought. We were given the opportunity to review a book from
Salem Ridge Press
, we selected
The Magic Runes
, by Emma Leslie.
Salem Ridge Press is working to bring back children's book written in the 1800's and early 1900's to create a library of living books for the next generation. Since we are eclectic homeschoolers I love the idea of living history, making history come alive through great stories, although these books really fit into many styles and methods of homeschooling.
I love the story behind the company found on their
website
, finding companies that are run by homeschoolers or homeschool graduates is so inspiring to me as a homeschool mom.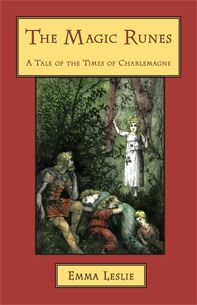 The Magic Runes by Emma Leslie is a wonderful story of the early church under the rule of Charlemagne and is recommended for readers 10 and up. The soft cover retails for $10.95 , a hardcover is also available for $20.95. We received the softcover which is perfect for young hands to hold on to.
The story starts in 782 A.D in France and Saxony. A young girl Adalinda comes across Godrith and his family hiding in the woods near her home. The family is in need of help but leery of the help because Adalinda and her family are Christians. Godrith doesn't trust her help as the Christian army of Charlemagne is responsible for burning Godrith's village in Saxony.
The story continues and leads to a glimpse into the early Christians.
Cameron struggled reading this book due to the old english style writing. We haven't quite finished the book yet (although I quickly skimmed the end of the book and no I'm not giving it away). Since Cameron is a delayed readers this book was actually above his level of reading which caused him to struggle with comprehension and retention for the story. We ended up doing much of it as a read a loud with Mommy reading and average of 1 page a day so he could retain the story. Personally I really enjoy the old world style writing and will be bringing the story out again as we reach Charlemagne in history. I did work hard to make sure Cameron got one of the points I felt stood out. As Christians we are to love our neighbors no matter what, and we need to show that love to them in a way that reflects God's love for us. (even when it seems hard!)
You can even read the
first chapter
of the book from the website

Looking through the list of books published by Salem Ridge Press, I have created a wishlist of wonderful books to add to our collection of history stories.
The Junior Church History Set
, a set of 5 church history books is a nice starter set and the
12 Book Church History Set
includes books on the early church as well as the medieval church. I love the variety on levels and historical periods covered by Salem Ridge Press, oh to have an unlimited budget and space to store all these wonderful titles.
Other members of the Schoolhouse Review Crew reviewed a variety of books from
Salem Ridge Press
, their thoughts can be found
HERE