I love a mind bending challenge, but I found out the boys aren't quite there with me yet.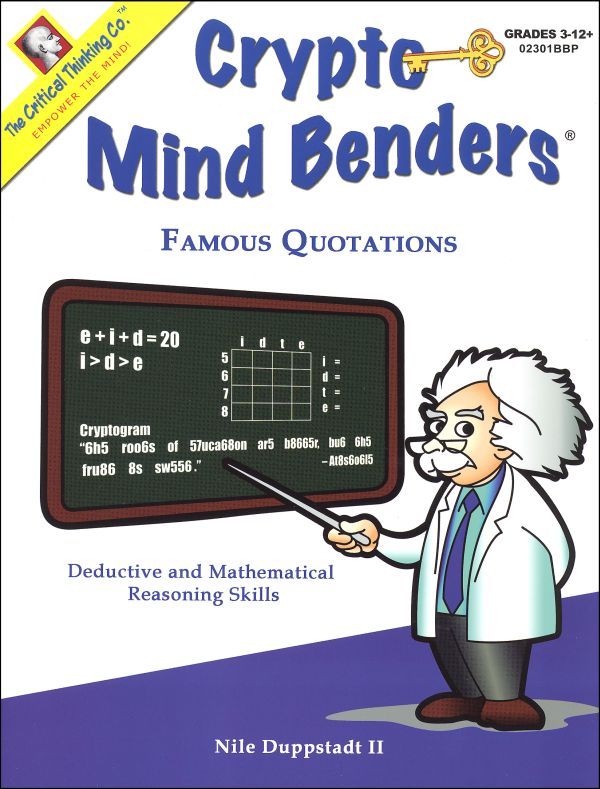 We received a copy of Crypto Mind Benders Famous Quotations published by Critical Thinking Co. to review as members of the TOS Homeschool Crew. Since the book is graded 3grade and up I figured it would be a fun change of pace for Cameron for Math.
I soon found out that the abstract concept didn't fit well for him.
We worked through several of the quotes and decided to set it aside while we worked on some more of the skills needed to work through the cryptograms.
I am happy to say though that as I sat down to write this review, the boys saw the book sitting out and asked if we could try them tomorrow for our Friday Math activity. So I guess the challenge has been met head on.
So details: The book retails for $10.99 print or e-book format and is filled with 32 activities where the answer is a famous quote.
Each activity has 3 sets of clues to work out and the puzzle at the end to find and reveal a famous quote.
For us the challenge led to learning new concepts including greater than and less than problems. Since the boys weren't familiar with that concept we have incorporated < and > into our other math activities to reinforce the new concept.
I can saw with out a doubt that this book is a value in the challenges and the doors it opens when the quotes are revealed. I can see the value in the e-book as well.
The rest of the crew reviewed not only this fun book but several other books from The Critical Thinking Company HERE
Disclaimer: we received a copy of the above book as a member of the TOS homeschool crew in exchange for our honest opinion of the product, all opinions are that of this blogger.