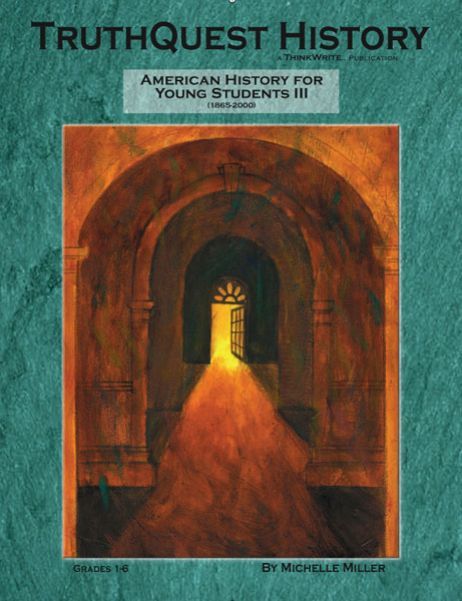 Let me start out by saying I love History!
Now, my boys aren't so sure and this year we were doing Modern American History so it wasn't as exciting as they had hoped. It is hard to teach 1900- present to 2 little boys without first over whelming them and second getting the ideas across without scaring them.
I was very excited to get American History for Young Students III from TruthQuest History to review. Cameron and I started reading at WWI since that was were we had paused in our History lessons.
Michelle Miller does an amazing job writing to the children at the level the can understand and explaining ideas in a way that they need to hear.
TruthQuest
is Biblically based which I love and explains concepts that even some adults have trouble understanding. The book is outlined by Events in a chronological format but also ads elements of art, culture, film, and sports to the history timeline. In each section Mrs. Miller lists books as well as films that may be used to read about various historical events , people, and places. I appreciate her honesty when writing about books or films that she hasn't read. It is important to read or view films before sharing them with our younger kids.
As we were reading through the lessons , we came across the story of Balto and Cameron excitedly told me he had seen the movie at Gamma's house. I paused and he then told me about the movie including details that were in what I was about to read him.
When we started reading about the Great Depression , TruthQuest once again was our lifeline. I love the examples she uses and how she brings it to life in the lesson story. We were able to borrow a friends copy of Mystery of History to use for additional reading along with a book I had already planned on using. I love how Mrs. Miller explains her book choices when dealing with the various people during the Depression Era and the New Deal programs. We settled on using the book I had picked out "Clara's Kitchen" about depression era cooking. It worked perfectly for us and stayed within what the TruthQuest book had been teaching the boys.
We are moving into WWII and again TruthQuest did an amazing job explaining the Allies and the Axis along with the confusing aspects of U.S.S.R (ally or enemy???). I was able to find a map to show the boys so they could visually see exactly what Mrs. Miller was explaining to them.
I love that the boys and I can sit on the couch, pull out the TruthQuest History book and read a lesson, then the boys want to find a movie or another book to go along with the lesson. It has inspired both Mom and boys to continue on our History Quest this year. We will be finishing up Modern history with a field trip to our local Air / Space Museum as well as a living history conversation with PaPa about WWII life, Korean War, and everything since in the next couple weeks. I am so thankful for TruthQuest History this year as it has helped put on back on track.
There is a wonderful list of
option "spines"
that goes along with the book we are using
Now for the other details about the books.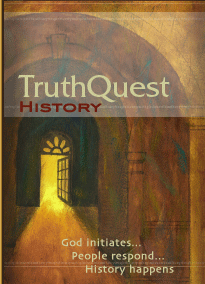 TruthQuest History
has a collection of 8 books that travel through History beginning with Old Testament/ Creation/ Ancient Egypt and ending with Modern History for grades 5-12 and a set of 3 books dealing with American History for grades 1-3. Books are available in print or e-book format and range in price from $19.95 to $24.95 depending on level and format.
I would highly recommend the print format, the price difference covers the printing and spiral binding. If you are looking for a lesson plan for History that uses living books as well as films with a Biblical foundation, then this is a great program.
Check out TruthQuest History on
Facebook
you can also find a wonderful Yahoo Group (History Questers) where Mrs. Miller facilitates discussions with other homeschoolers using TruthQuest.
The TOS Homeschool Crew reviewed a variety of the Truth Quest History Guides. Check out the reviews
HERE
Disclaimer: We received a copy of 1 Truth Quest History Guide in exchange for our honest opinions, no monetary compensation was received.