Nathan is my science guy, he loves creating new experiments and learning why things happen. I was very excited to introduce him to the Amazing Science DVD set from
ScienceandMath.com
. The 2 DVD set contains 23science experiment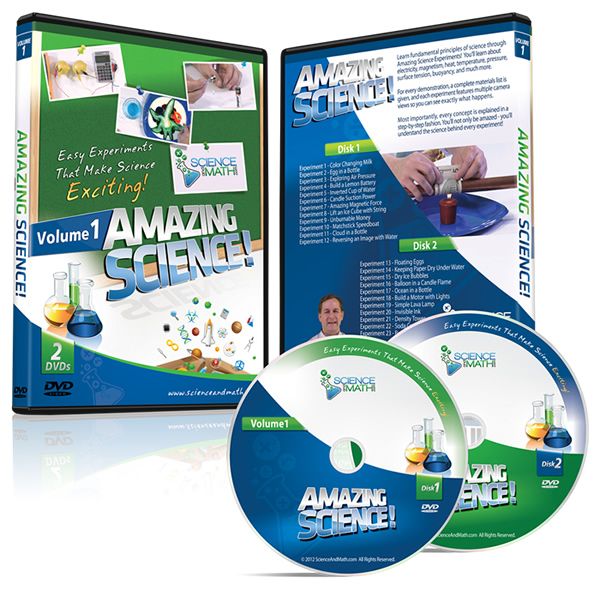 videos and retails for $19.95.
The videos are engaging and explain the how and why of each experiment in a fun environment. Nathan watched both DVDs through 3 times and still watches them just for fun. The DVD set is worth the cost if even if only for the entertainment value….
Seriously though, after watching the set through twice, Nathan was eager to start working on the experiments. One thing I noticed was although the supplies needed for the experiments are listed on the screen, there wasn't a printable list on the website or on the discs, thankfully though a fellow crew member created one with the publisher's permission.This homeschool Mommy is very thankful to
Walking by the Way
for saving my sanity..
We picked 2 experiments to focus on… #1 and #6. Nathan found all the needed supplies around the house and eagerly jumped in.
Color Changing Milk
Well, the idea that he could draw in milk intrigued.. We used a small Styrofoam plate and 2% milk that is what we had on hand.
We used a gel based food coloring so it wasn't as vibrant as on the video, but Nathan was still excited enough about it that he drug Daddy in to show him and explained the why to Daddy as well.
Next up Candle Suction Power.
We actually had to do this experiment a couple of times to find a glass that was large enough for the candle.
Again Nathan was glued to the actual experiment and had Mommy do it again so he could show Daddy.
It was actually fascinating to watch the water rise inside the glass.
The smile on my little guy's face was worth all of it to this Mommy, but don't take my word for it , check out what the rest of the Crew thought of it HERE
disclaimer: We received a copy of the above DVD as a member of the TOS homeschool Crew in exchange for an honest review. All opinions are that of the blog's author, no monetary compensation was received.